Independence Day is a great opportunity to have a get together, and celebrate nationhood.
4th of July is not an ordinary day, it's when America got liberated, and got its own identity. Independence Day when the space around turns all colors red, white and blue. Independence Day is a great opportunity to have a get together, and celebrate nationhood. This opportunity comes once a year and you must celebrate with some partying and do not miss out on flowers. Flowers have been a forever part of memorial day and 4th of July and you should grab one this time. Usually people go by the traditional color scheme; you can also go by modern tones.
1. Traditional
Going by the traditional color scheme you can go for colors red, white and blue. For this you can go with a combination of colorful red gerbera daisies, white alstroemeria, and purple delphinium. This combination is all mixed up arranged in a tall glass vase. Red gerbera daisies symbolizes immersive love, followed by white which symbolizes purity and clarity. Purple delphinium represents cheerfulness, goodwill and protection.
2. Patriotic cross
This table piece is flowy and well placed, you have to put this over a party or a dining table. Along with traditional colored flowers, this bouquet also has a glass cross piece which is breathtaking. The flowers you can put in this one are red and white chrysanthemums along with crimson red carnations with red roses, white hydrangeas and some filler leaves like ivy and leather leaf fern.
3. Best wishes
Along with patriotism and feeling of brotherhood, sending best wishes is a great practice. For this 4th of july flower arrangements you can go with red carnations, yellow english daisies along with green poms well arranged in a glass vase. Red carnations symbolize love and affection and yellow daisies represent joy. Get these flowers from florist in Lady lake florida.
4. Wonderful
For a great bouquet colors are a must have, multi colors bouquet brighten up any space and surely turn heads. For a lovely bouquet you can go for red and orange gerbera daisies with pink aster, hot pink roses, mini mums pink and green. Pink aster flowers represent love, wisdom and faith. Hot pink roses symbolize thankfulness and joy, chrysanthemums represent friendship and well-being.
5. Blue magic
For this blue wonderland bouquet you can go for white lilies, white roses, white daisies with blue alstroemeria, blue hydrangeas, lavender stock. These flowers will go well in a round blue vase. White lilies symbolize beauty, innocence and salvation and the others represent innocence, friendship, love, devotion and positivity.
6. Sunrise
For this lovely bouquet you can go for hot pink roses, yellow roses, purple stacie, pink aster, with fern leaves and a glass vase to complete the summery look. This is a unique pick for 4th of july and will look lovely for the summer.
This 4th July Independence Day get your flowers from the best florist in The Villages FL. The Villages Flower Shop brings to you exclusive flower bouquets for every occasion now and forever.
PATRIOTIC SILK CEMETERY URN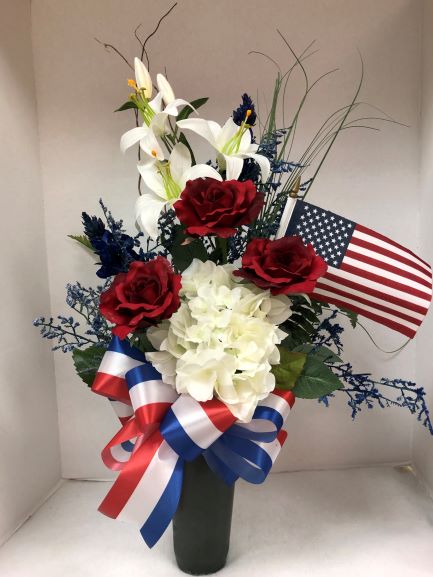 PATRIOTIC SILK CEMETERY URN
$45.00
A Patriotic Cemetery Urn for your Loved One's Salute to their Military contribution to America. I great addition to the Gravestone to show the pride and love in what they did for their country.